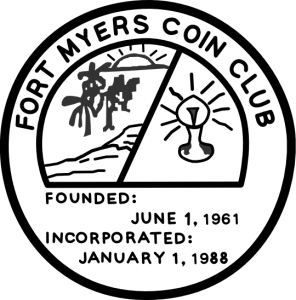 The Fort Myers Coin Club is Southwest Florida's largest and longest-running coin club! The club started back in 1961 and have been going strong ever since. We were formed to encourage and promote numismatic education and foster a spirit of cooperation and fellowship in the numismatic community. We are much more that a group of coin collectors – our members also collect paper money, medals and tokens. We have beginning collectors, advance collectors and at every stage in between – you'll never be "out of place" as a guest and hopefully a member of the Fort Myers Coin Club.
One of the strengths of the Fort Myers Coin Club is the diversity of members. Our ages go from 8 to over 80. We have several members who have just started in the hobby, or restarted after a short break while some have been collecting all their lives. We also have many snowbirds who are members of our club. We are sure you will find a place in our friendly club.
Numismatics is the study or collection of currency including coins, tokens, paper money and medals and related objects. While numismatists are often characterized as students or collectors of coins, the discipline also includes the broader study of money and other payment media used to resolve debits and the exchange of goods. In addition, numismatics is said to be the "Hobby for all Ages". It is also a family hobby that you can get everyone involved in since it is diverse hobby.
Again welcome to the Fort Myers Coin Club web site, I hope you enjoy the web site and if you have any questions please contact us.